We had another warm but beautiful run last week in Mendota at Lucky's 13. Due to the heavy rain the previous day we opted to run the paved, Big Rivers Regional Trail rather than going for a trail run through the mud. The route was a simple out-and-back on the trail with the majority of us hitting the Big Rivers Regional Trailhead at Hwy 13 and Sibley Memorial Hwy. At the Trailhead we had a quick second to take a photo at the giant photo frame from the Minneapolis Institute of Art.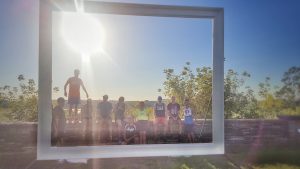 The route back was a nice downhill almost the entire way back to Lucky's.
At Lucky's we had a great time hanging out on the patio enjoying some great food and beverage. Even the local bar cat hung out for a while!